About us
We, that are Tanja, Rainer and our little daughter Thyra and of course our Doberman female Eloda von Trokadero Vero, called Enola. We live with my mother-in-law in the beautiful north of Bremen at the river Lesum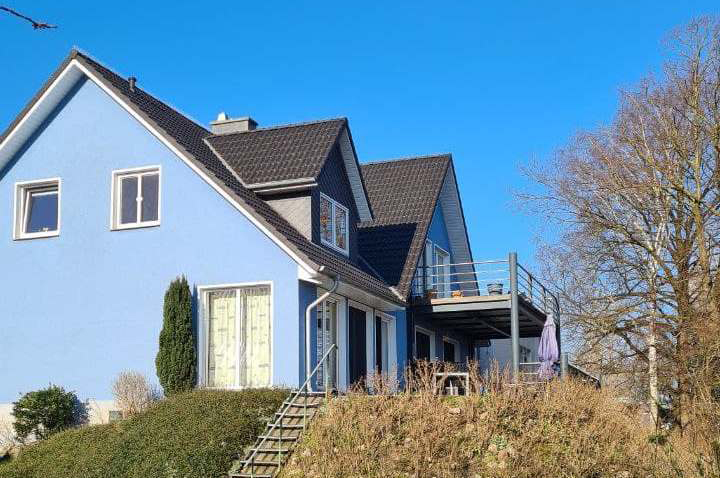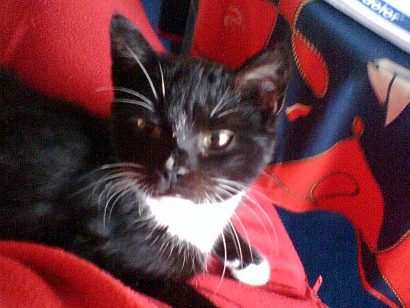 Actually I grew up with cats. In 2005 my first own cat Shiva came to me. I always had contact to dogs through friends and acquaintances, mostly they were German shepherds.
My husband also always had dogs through his parents. When we both met, he had a giant schnauzer female named Krishna. Krishna passed away in 2016 in April of almost 13 years old due to her age. After she passed away, we wanted a dog again to watch our property as well.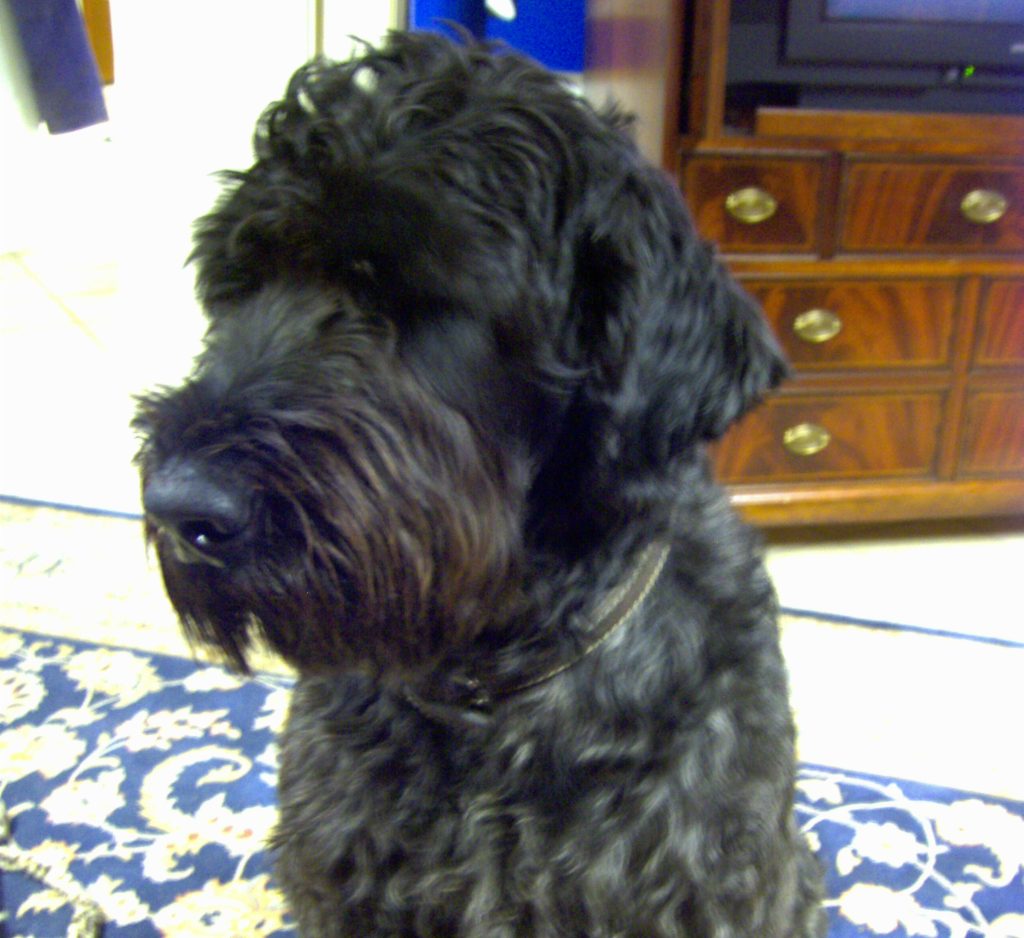 My dream has always been, if I wanted a dog, the Doberman.
After my husband and I had informed ourselves for a long time about the breed of the Doberman and everything that belongs to it, it was certain that it should be a Doberman. So I went in search of a breeder.
Then in September 2016 our female Enola came to us. Our cat was now 11 years old and looked at Enola only from afar. It worked great with both and at some point they also lay together on the couch.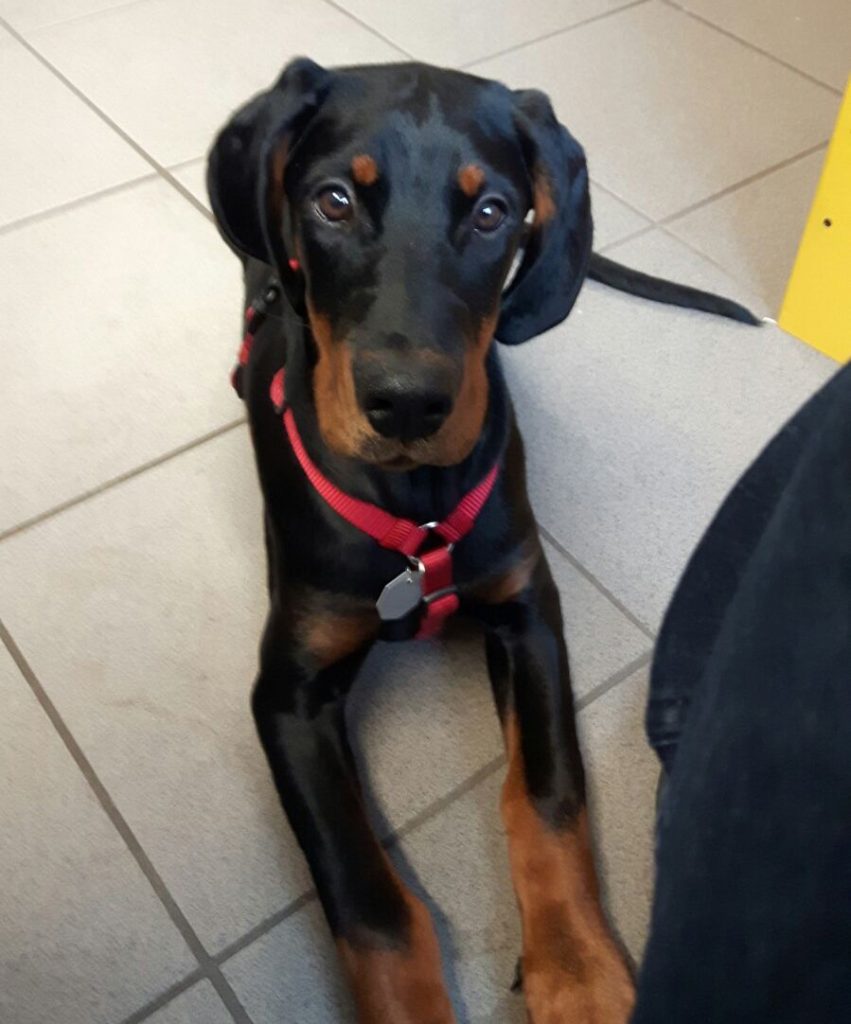 In order to socialize Enola well, we decided to go to a dog park. In the beginning it went well, until Enola had her first bad experience with a dog at the age of 6 months. So the topic of a dog park was put on hold.
After that we visited a dog school, where we both had great experiences and learned a lot.
At some point my husband told me that he would like Enola to have offspring. We thought about it for a long time and decided to train Enola.
However, I had to interrupt the training in 2018 because we were expecting a baby. In November 2018, our daughter Thyra came into the world. Enola coped very well with the new situation that there was now someone else. While breastfeeding, Enola used to lay on the couch with us and pay attention.
I then started training again in the summer of 2019 and then also registered in the Doberman club.
In the summer of 2019 I was with Enola at a vet for the HD- examination. And then was first of all practice, practice, practice announced. At the end of 2019, I made my expertise test with success. Unfortunately, then Corona interfered with my plans and exams were canceled.
In the spring of 2020, I was with Enola to the DCM examination and she has been examined DCM free.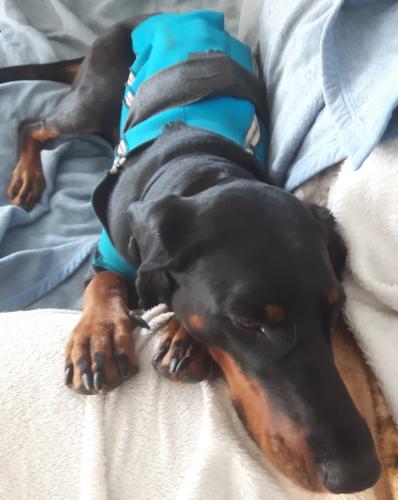 After I found out about the DDP project, I had her DDP tested in August 2020.
Then I successfully attended a new breeder seminar in October 2020. The cattery protection was applied for and in summer 2021 I received the cattery card.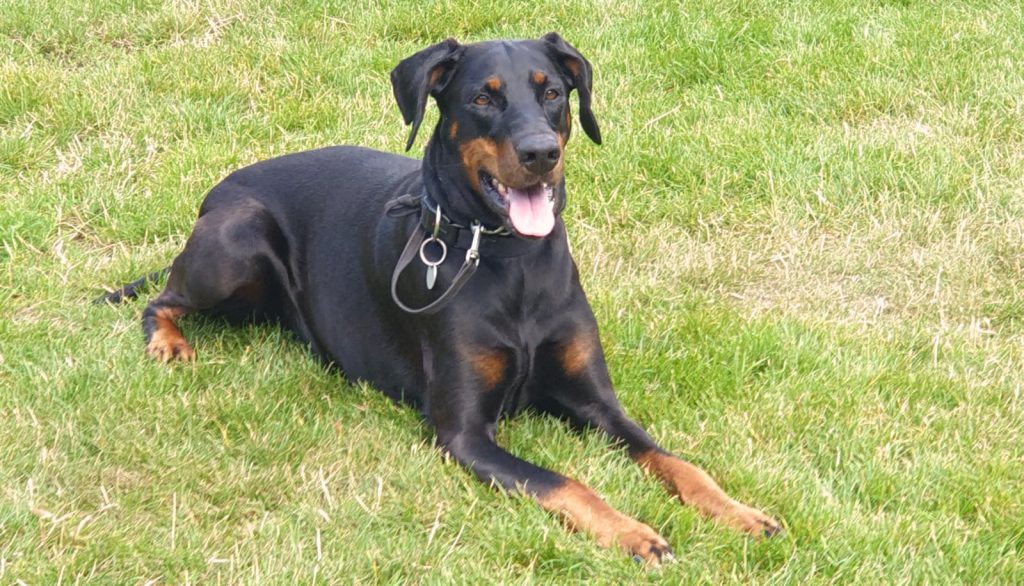 Enola passed the companion dog test in November 2021.
After that we started to practice for the breeding suitability test. At the end of May 2022 it was time. We went to the exam in Lüneburg. She passed the exam with V 1 B.
Thus Eloda has passed all the requirements for breeding.